Quote:
Originally Posted by
javelina1
Very good.
Since yesterday, I've done some more home work, I tested two configurations, with the Intel Core i7 9700K for comparison since I run an AMD motherboard and a Ryzen 7 2700X, both rated at 100%.
At 2160p/4K, the i7 gives me a slightly lower bottleneck percentage, at 1.79% vs 3.65%, higher than the Ryzen 5 2600X at 2.51%, but the Ryzen 7 runs some games slightly faster than both, or equally as fast than the i7...
Considering that the Ryzen 7 2700X cost <> 50% less than the i7-9700 at £174.99 and also have good head room for overclocking, I think I made the right choice going for AMD.
Now, my next move will be to get a 1080ti from CEX, they sell them for £510.00 and they are guaranteed 24 month, more to it, they can buy my actual 5500 XT for a £119.00 voucher, which I can use to purchase the ti from them.
£391 is a hell of a good deal for a ti 1080 11GB, CEX gear are often brand new, but in any case they are well tested and 2 years guaranty on top is very good.
So it was a good thing that
blkspade
gave me some insight on the performances of the card I intended to purchase first and the ti, This solution is just as cheap and will perform way better in VR.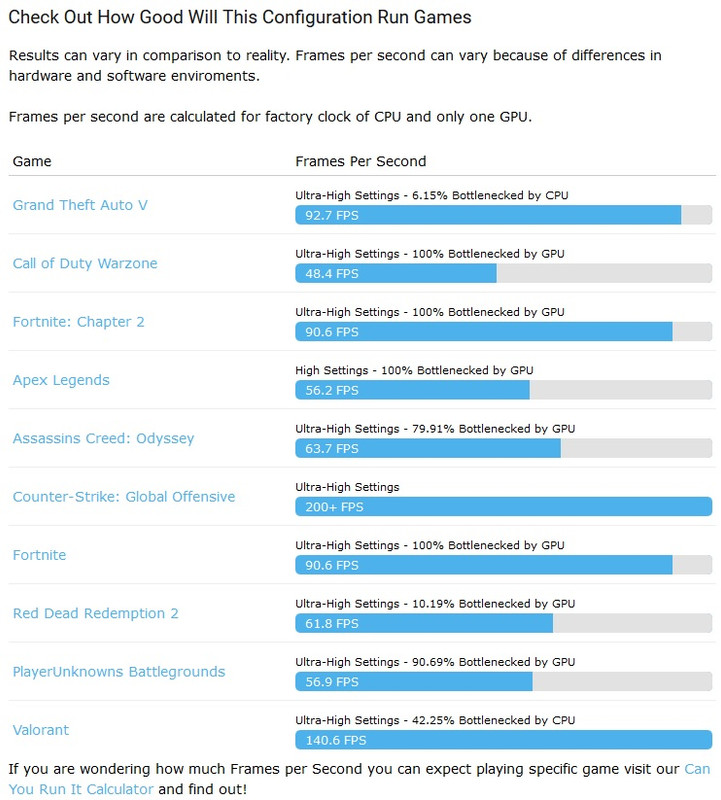 Quote:
Originally Posted by
Mr_sukebe
The 2070S is maybe 30% faster.
It was bought as much so that my son could have my 1080.
In a couple of years perhaps, when they'll be selling second hand, in the meantime let's hope that developers will have improved support for VR...