(I will update this thread on a regular basis - so you may want to subscribe to it...)
DCS related fixes for proper use with SoftTH 2.08b:

Fix: for bugged mission editor/Abris in DCS with SoftTH 2.08b:

Enable "quirk-mode" in the config.SoftTHconfig:
Quote:
[debug]
compatibleIB=0
compatibleTex=0
compatibleVB=0
enableVBQuirk=1<<<
this last line(enableVBQuirk=1) is missing when you use the configuration tool - so add it manually by using a editor!
And avoid using ZClear - as this will produce some shader bugs . Means :
Set "
zClear = 0
"! >>>
Strange water texture overlaping bug... or something
And if you are using Helios (http://www.scsimulations.com/):
You
have
to use
"keepComposition=
1
" in the config.SoftTHconfig to switch Aero on while SoftTH works.
This will make it possible to have Helios rendered over DCS on secondary screens!



You still don't know what SoftTH is? :

SoftTH is donation-ware
and let you do what the big GPU company's don't allow you to do or only at high costs.
SoftTh let you render
every
monitor combination at High FPS in full-screen mode. You can even Mix SoftTH with AMD-Eyefinity and/or TH2GO,NVIDIA-Surround !
Especially interesting for DCS. -SoftTH let you use full-screen Mode If you export MDFS/Abris ect. on additional screens . You are not forced to use Windowed mode any more.
Even Helios is working with DCS in Fullscreen on all secondary heads.
And Yes , it will gain your FPS!
Some interesting examples what you can do/how it can look:
Mixing Eyfinity with SoftTH:
(
Congo_Toey
)
Just crazy... :

Mixing Portrait with Landscape:
SoftTH main page:
http://www.kegetys.net/SoftTH/
Note: Even if you are running a 64bit OS, most games require the 32bit x86 version since the games themselves are 32bit executables.
SoftTH forum:
http://www.kegetys.net/forum/index.php?board=1.0
readme_SoftTH2.txt
:
Read it before asking for help !!
Download
Some educational threads about SoftTH :
In this thread I show some interesting insights of SoftTH on a theoretical set-up:
SoftTH 2.xx explained at a example configuration
Here are some "talk on's" I made that will give you a better understanding how SoftTH can be utilised for "only" two monitors and how to troubleshoot if you are stuck... :
Black Shark Twin monitor
A simple step-by-step instruction how to set SoftTH up with a triple-head configuration:
http://forums.eagle.ru/showthread.ph...61#post1135561
A advanced setup optimization using the "destRect" function :
http://forums.eagle.ru/showthread.ph...09#post1348809
And if you like SoftTh you should donate something to Kegetys !
+++++++++++++
News: 01-03-2013
+++++++++++++
Quote:
Originally Posted by
BHawthorne
I've been in contact with one of the Co-Directors and the lead programmer for Immersaview. They've reviewed the SoftTH codebase. They said they're receptive to doing a new utility with better functionality and GUI but it would be scratch coded and not from the SoftTH codebase.

Those of you interested in a new utility it would be useful to post a feature wishlist here and I can forward it to the powers that be at Immersaview.
+++++++++++++
News: 12-14-2012
+++++++++++++
Thank you Kegetys !
SoftTH source code release
+++++++++++++++++++
News: 02-17-2012, 03:26 PM
+++++++++++++++++++
>>>
SoftTh 2.x configuration tool
+++++++++++++++++++
News: 12-30-2011, 01:25 PM
+++++++++++++++++++
v2.08 is released:
It is optimized especially for DCS now. - you will probably have a little better FPS - but more important: a better compatibility and more stable system:
Quote:
Originally Posted by
Kegetys
This is hopefully fixed with SoftTH v2.08 available
here
.
Along with the crash fix, it can also improve performance a bit and make the fps smoother overall (I re-wrote the indexbuffer manage-emulation code and added proper emulation for vertexbuffers as well - it now should behave similar to a "non-SoftTH" device). Illustrated here:
(v2.07 above, v2.08 below. But your mileage may vary
)
+++++++++++++++++++
News: 10-12-2011, 11:36 AM
+++++++++++++++++++
Some crazy guy with obviously too much time on his hand wants to try to write a SoftTH-Manual for the average-Joe....
Please help him out!
>>>
http://www.kegetys.net/forum/index.php?topic=2861.0
+++++++++++++++++++
News: 10-07-2011, 11:17 AM
+++++++++++++++++++
There is a undocumented function in softth version v2.01 and up:
Quote:
kegetys
Administrator

Posts: 244



Re: * SoftTH v2.01 pre-alpha test version *
« Reply #100 on: July 17, 2010, 11:32:05 AM »
In v2.01 there is an undocumented feature for setting a "destination rectangle" for the outputs. With it you can set the output to cover only a part of the screen area. It should allow, for example, properly aligning different height displays so nothing is outside the visible area and black borders are added instead.

Example result with it:
Render resolution is 4800x1200 here (3x1600x1200) despite the widescreen monitors used, the area to the left and right is left blank:



Config used: http://junk.kegetys.net/softth2_dest...fig_sample.txt
Note the "destRect" properties that limit the output area to 1440x1200 pixels on the 1920x1200 side monitors.
This "destRect" function lets you define what portion of your monitor is used and how much of the rendered image will be shown in this part of the screen. -and you are able to move this part freely around! with other words: It let create you a "window" inside your screen!
I edited a little goofy example to show you better what you can do with this function: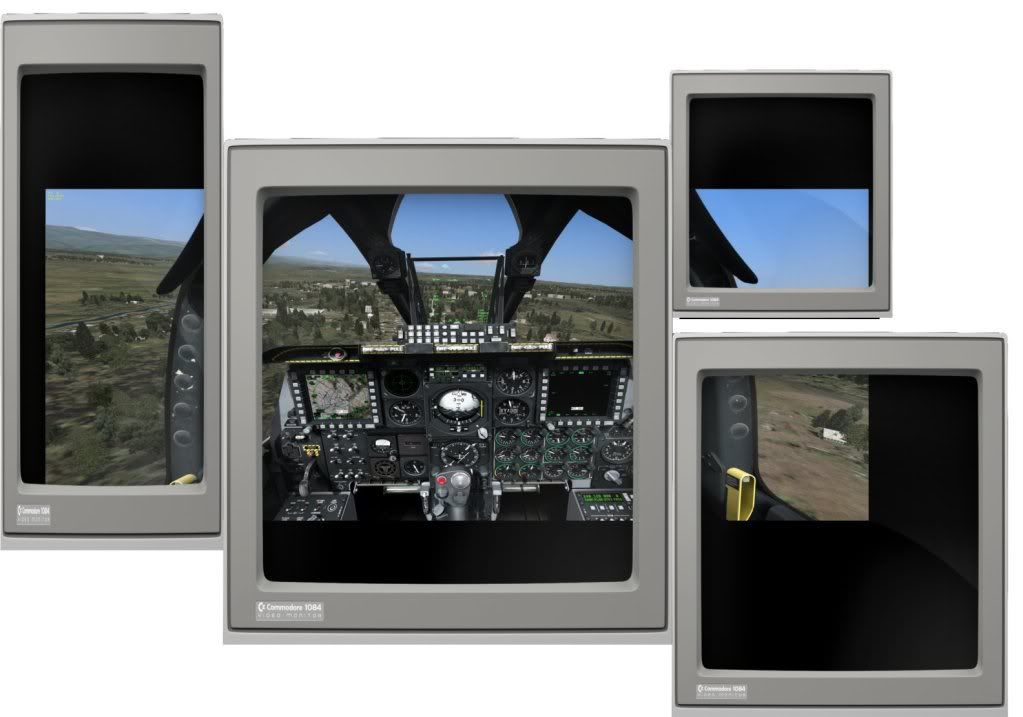 So let's assume you have different sized monitors/no monitor matches the other in size and native resolution.... and you are mixing portrait with landscape...
But the "destRect" function let you render in fullscreen-mode and align everything inclusive bezel-management and in right aspect on all your monitors !
et
y+++++++++++++++++++
News: 06-11-2011, 10:08 PM
+++++++++++++++++++

2.06 Version is out.

Most recent changes for DCS is to limit the FPS for secondary heads - Very helpful to reduce the overhead-rendering for usb-bus and help to get better Framrate if you utilise a USB monitor for MFCDs:

http://www.keget
s.net/forum/index.php?topic=2123.msg11898#msg11898
Quote:
Quick update (v2.06) is available with:
- fpsLimit setting for non-primary heads
- Managed volume texture fixes (Rise of Flight)
- Fixed memory leak with GSwapChain
- Fixed memory leak with GetSurfaceLevel
- SoftTH no longer incorrectly activates on windowed mode device

Main "feature" is the memory leak fixes, it should hopefully fix random crash problems after a longer time of playing some games.

In addition, there is a new "fpsLimit" setting for non-primary heads. This can be useful when using USB screens for instruments (in DCS series for example), you can limit the update rate for the USB displays which can improve the overall FPS a bit.
http://www.kegetys.net/forum/index.p...4&topic=2123.0
+++++++++++++++++++
News: 06-11-2011, 10:08 PM
+++++++++++++++++++
New version of the configuration tool from Olstyle.
Now you can use a advanced offset/bezel management.
Off-line version is also available:
http://www.kegetys.net/forum/index.php?topic=2631.0
+++++++++++++++++++
News: 04-09-2011, 12:49 PM
+++++++++++++++++++


SoftTH v2.05 alpha:
http://www.kegetys.net/forum/index.p...10775#msg10775
[QUOTE]
kegetys
Administrator
Posts: 227
Re: * SoftTH v2.05 alpha test version *
«
Reply #347 on:
April 07, 2011, 12:45:02 AM »
v2.05 is available:
- Improved local head performance for AMD cards
- Fixed RGB16D nonlocal mode on AMD cards
- Slightly improved nonlocal performance for Nvidia
cards (Restored to v2.02 level)
- Reduced CPU use when waiting for gpu synchronization
- Framerate smoothing is always disabled if all heads
are local
- Fixed potential crash with hooks
This version should improve the performance noticeably for Radeon users. Nvidia users might see some small improvement in some cases as well.
Download links in the first post.