Title says it all. A suggestion / wishlist for an aircraft that needs no introduction. the F/A18E & F Super Hornets. This thread however is focused on the block 1 series because it is a more data on it, and thus a feasible addition at some point in the future. Due to new information i have decided to include early Block 2 ( Lot 26) as part of this suggestion
Air-frames are similar in overall visual silloute but obviously different in construction. Noting it's Larger Air frame size and new Air intakes being the clearest and best way to visually differentiate a Super Horent from a Legacy Hornet.
However Block 1 series super Hornets have a decent to fair bit in common avionics wise, with the Late F/A18C Lot 20 were getting from ED with its 2000s era post production upgrades.
Knowledge applied to this Legacy Hornet could be applied to the F/A18E block 1. Not that ED or any 3rd party would be think to resorting to to just copy paste entirely of code ( only to avionics applicable) . Unlike when ED started the project 5 years ago, today there is now public sourced data like available. There is is a F/A18 E/F manual dated from 2008 available online.
It coveres F/A18E( single seat) Super Hornets from lot 21- 25. which are block 1 series aircraft. as well as F/A18F super hornets to lot 26 series.
F/A18E/F's Block 2 + ( starting with Lot 30 production) have AN/APG79 AESA radar plus IRST, however Block 1 and early block 2 series 's still have AN/APG73 Phase 2 radars, An/ALR 67 RWR, and the same CM system ( ALE 47) as the F/A18C lot 20. Initially they even had 90% of the same software code as Legacy Hornets. Its, the later Block 2 is what what we couldn't be able to get because of lack of information on the AESA radar an other newer systems.
However block 1 and early block 2 SUper Hornets are fully with reason, since it seems there is enough data today to develop one.
SUper Hornets BLock 1 new avionics for the most part is really just a New Fuel Display/ Management system and a touchscreen UP Front controller replacing the Keypbad based UFC on the legacy Hornet, and a Larger LCD display for the Moving map.
Block 21-24 share CRT DDI's that display pages in Monochrome green like the F/A18C lot 20, whilst Lot 25 introduced new DDI displays, and with the Lot 26 new mission computer, and new LCD based MPCD over the one included in the Lot21- lot 25
SUmmary of production Super Hornet lots

Lot 21
"One F/A-18E Aircraft was delivered in fourth quarter FY99 at NAS Lemoore and included a modified airframe, new engines, and an additional weapons station under each wing. The Lot XXI aircraft also incorporated a low drag pylon, AN/ALE-47 dispensers, AN/ALE-50 towed decoyr, AN/AYK-14/ XN-8 Mission Computer, AN/ARC- 210(V) VHF FM Radio Set, INS + GPS module, AN/ALR-67(V3) Radar Warning Receiver, and a modified FCC. F/A-18E/F Low Rate Initial Production (LRIP) 1 are equipped with the AN/APX- 100(V) Identification Friend or Foe (IFF) instead of the the AN/APX-111(V) CIT."
To also quote another article so users get an idea of how comparable this SH is to the Legacy Hornet so far
"Paul Summers, Boeing's F/A-18 New
Products Development Manager, has described the baseline E/F avionics as the equivalent of the C/D lot 19 standard." (obviously pre modernization), although not fitted at production date MIDS terminal ( LINk 16) was eventually post production fitted.
Lot 22
"Lot 22 began LRIP 2 in third quarter FY00 for the F/A-18E/F, which included the AN/APX- 111(V) CIT, as well as the installation of MIDS ( Link 16)
Lot 23
Lot 23 began delivery in first quarter FY01 with the Digital Communication System (DCS), Radio Frequency Defensive Electronic Countermeasures (RF DECM), Joint Helmet Mounted Cueing System, and Tactical Aircraft Moving Map Capability (TAMMAC)
Lot 24 introduced AN/AVX-4 Fast Tactical Imaging Set
Lot 25
started being produced in August of 2002, and entered squadron service by end of 2004- early 2005. Introduced new Advanced mission computer as well as LCD full color based based DDI's that display general overlay in White. In addition well as made room for future upgrades that would come in a few years. ( already were planning for BLock 2 upgrades)
Legacy Software Code was also rewritten in C++ programming language for the sake of relevancy and future ease of maintanability.
to compare with Images
F/A18E block 1 ( early) pre HMD Lot21- 22. Pilots Cockpit

F/A18E/F Lot 23 - 24
would like this but with HMD KNob for JHMCS and aim9x compatibility. ( refer to earlier excerpt from The super hornet manual.)
F/A18E/F ( Lot25 )
which included a new advanced mission computer (AMC) along with new LCD colour "MDI" displays which replaced earlier tri colour DDI's from F/A18C/D vintage
F/A18F ( lot21-24
) WSO cockpit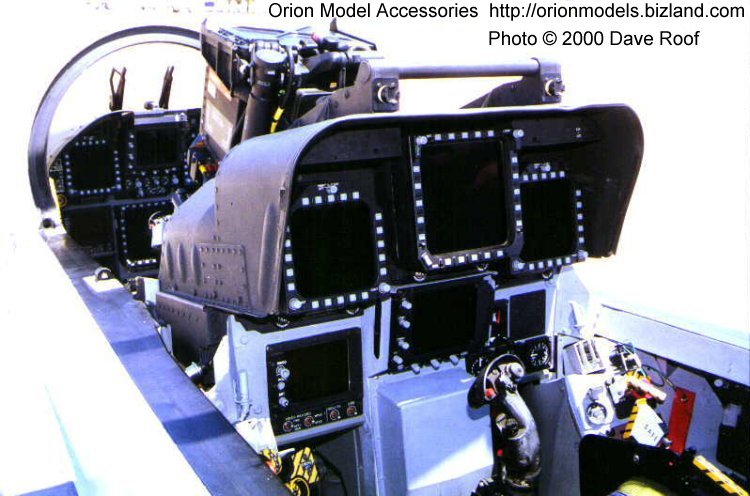 F/A18F Lot 25 WSO cockpit
- largely the same as Lot 21-24, but with new LCD displays replacing the older CRT DDI's.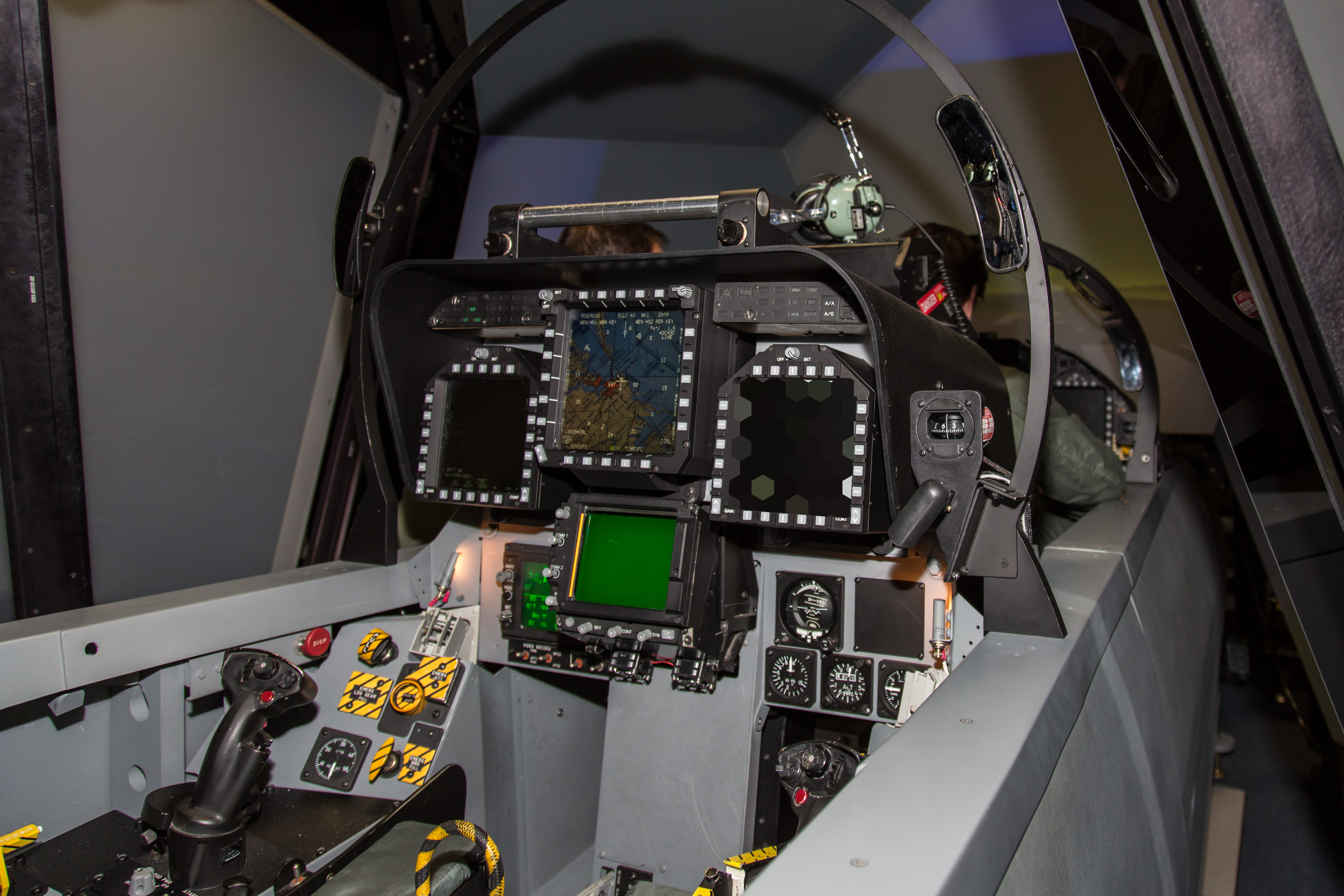 F/A18E/F Lot 26
- produced in 2005 ( first production batch of block 2) Which were still fitted with AN/APG73 radar ( according to new source discovered AN/APG79 didn't become available until the Lot 30 production)
https://www.flightglobal.com/news/ar...hornet-212600/
Lot 26 ( and later) has a new "MPCD" over block 1's. along with new TAMMAC Digital Video Map computer
Computer. a new Mission computer is also added allowing in F model's for Pilot and WSO to view maps independently of each other
https://fat.gfycat.com/NauticalDescr...oldmackaw.webm
F/A18F Lot 26 + WSO cockpit
( New large 8x10 panel display replacing Lot 21-25 MPCD in WSO position)