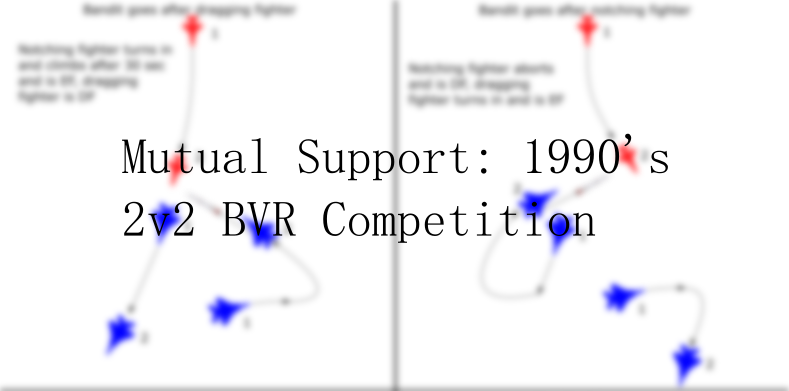 INTRO
Mutual Support is a 2v2 BVR Tournament. Naturally, the smaller team sizes often lead to more aggressive and interesting fights that are focused on solid mutual support.
Various editions of it will have various rulesets based on the approximate time era chosen; this edition is 1990s themed.
DATE AND TIME
This second edition of Mutual Support will start at 2000z on November 7th, 2020. The running time will be no greater than 3 hrs. If this is exceeded, the competition will be resumed one of the the following Saturdays at a similar time, based on the teams preference.
Registration ends on November 6th.
OBJECTIVES AND TOURNAMENT STYLE
Each match is conducted as best of three rounds. The objective is to destroy all enemy aircraft (by doing so preventing them from RTBing), and still be able to RTB to the designated base. Note that enforcing the RTB is up to the loosing team; if they want they can tell the winning team to simply respawn.
The competition is a knockout-style competition, with teams being eliminated after loosing a 3 round match. Time permitting, looser of the first round of fights will participate in a separate championship.
RULES
A single team may be comprised of as many pilots as desired; however, only two may be used at a time.
Only one pilot is allowed to change between rounds (note that for the F-14, changing RIOs is allowed as much as desired).
Aircraft types may not be changed between the individual rounds of a particular match. They can, however, be changed between matches.
Mixed fleets of aircraft are allowed (e.g, one F-18C and one J-11A).
All spawns are air spawns separated by 100-120nm.
Either of designated airbases for the chosen arena (Kutaisi-Tiblisi) is a valid RTB airbase.
The competition will be on Caucasus map.
[]
Weapons employment from outside the engagement zone is not permitted.
[DELETED].
Ping limit of 300 is server-enforced.
Lonewolfs are allowed; the pairings are to be decided automatically the day before the matchup, and will stay that way for the tournament. Alternatively, you may decide on the pairings yourselves; in that case, simply state the agreed pairings no later than November 6th at 2300z.
AWACS will be present, but will NOT have datalink enabled.
To keep the event running smoothly, I would ask that suggestions/questions be kept until the end of the event, unless they are relevant to/will affect the remaining rounds (e.g, concerns about excessive lag/rubber banding).
One squadron may enter up to 2 primary teams. Any further teams will be put on a reserve roster to allow space to accommodate more teams. If a team cannot show up, or registration is not full by registration end, reserve teams will be moved to the primary roster.
More Rules TBD
WEAPONS RESTRICTIONS
This edition features a roughly 1990s rule set with some exceptions.
The BANNED weapons are: AIM-9X, AIM-54A Mk.60, AIM-120C, Nukes.
Restricted weapons are: AIM-120B to 6 total, AIM-54 Mk.47 to 4 total.
COMMUNICATION
All team captains must be present on the Alamo Squadron Teamspeak (server info below) during play.
IP: 73.32.85.67
PW: 5775
Questions are to be asked either in PMs, or on this thread.
STREAMING AND PRIZES
There is no anticipated stream as of RN. If you would want to volunteer DM me.
There are no prizes, its simply for the fun of it!
REGISTRATION
Registration format is as follows:
[Team Name]
Player #1
Player #2
Player #3
...
As an example
Alamo Squadron
Alamo 1-1 | dundun92
Alamo 1-2 | Dankguy
There will be a limit of 16 teams.
OTHER RESOURCES
For those that may be interested, but may not be familiar with 2v2 BVR, the 2v1, 2v2, and Tactical Intercepts of "Fighter Combat: Tactics and Maneuvering" are very informative. It is widely available as a PDF online.