Carrier Air Wing 66 (CVW-66)
EURO-TIMEZONE CARRIER BASED (F-14B/F/A-18C) MULTIPLAYER COMMUNITY.
Carrier Air Wing 66 needs YOU!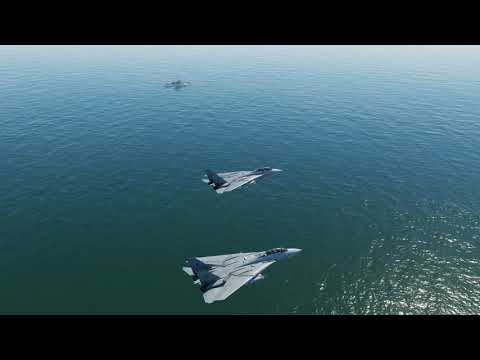 WE ARE LOOKING FOR:
-TOMCAT PILOTS AND RIOS
-HORNET PILOTS
NOTE:
Please read the ENTIRE post before you consider applying.
TIMEZONE:
We are in the EURO zone and for timings and connection issues, we are primarily interested in pilots in this region. (We DO have pilots outside the EU, and that is no problem as long as European late evenings works for you and the connection/ping is sufficient).
Our primary nights for playing are THURSDAYS and SUNDAYS 2000 CET, but these are not set in stone and we are active on other nights as well.
DESCRIPTION:
We are a mature group of laid-back guys with a strong passion for aviation in general and Naval Air Ops in particular. We classify ourselves as an "Authentic" group, rather than "hardcore". What this means is that we enjoy the communications, brevity and tactics employed by real pilots, but always put enjoyment and fun first. We have a three step qualification program, Initial Qualification (IQ), Mission Qualification (MQ) and Carrier Qualification (CQ) that leads up to your deployment. In your training you will be guided and supported by friendly and supportive Instructor Pilots. Expect to fly everything from simple formation and navigation practice, to close quarters BFM training, as well as large coordinated package strikes during your training period.
We are currently undergoing training in the NTTR as well as carrier qualifications, preparing for our first cruise.
SQUADRONS AND AIRFRAMES:
Our current active squadrons are VF-119 Tridents (Fictional) flying the F-14B, and VFA-166 Maulers (Fictional) flying the F/A-18C.
ACTIVITIES:
We provide training on fundamental skills such as basic communications and brevity, formation flying, air to air refueling, BVR, ACM and air to ground. These basic skills are trained and learned together with others, nuggets and veterans alike leading up to a Initial Qualification. Having mastered the basics, you qualify for the boat before it's off to go with the rest of the Wing on a 'cruise', (or campaign if you will). The current cruise is getting ready to lift anchor for the Persian Gulf. After that, rumours abound speak of trouble in Syria..
In short: You will get both the big, detailed package strikes with 8-16 aircraft as well as smaller hops with just you and your wingman. Either big or small, you will find good guys to fly with you- all learning as they go.
BEFORE YOU CONSIDER APPLYING- MAKE SURE THAT YOU THIS DESCRIPTION IS FITTING FOR YOU:
1. You are a mature, casual dude, that enjoy 'serious fun' and learning together with like-minded pilots.
2. You own and actively fly the Heatblur F-14 Tomcat or ED's F/A-18 Hornet and can hold your own in all aspects of a mission (Navigation, communication, a2a refuelling, BVR, WVR, A2G, Case I recovery). NOTE: You don't have to be an expert or 'ace'- just how to operate the aircraft and its sensors and weapons. We are all learning together.
3. You have been active with DCS for a good while and know that this is a lasting passion and hobby for you.
4. You are self-driven and take responsibility for practising required skills, getting in touch with others to get missions going and can 'take care of yourself' in terms of improving your basic skills in DCS.
5. You can enjoy 'slow paced' gameplay, where the focus is learning together, rather than racking up kills in a PVP server.
6. You are European based (Due to ping and time zones), but speak English comfortably.
6. You own the NTTR and PG- maps.
7. You have, or are willing to get Simple Radio (SRS) for in-flight communications.
8. You have pre-purchased or will get the DCS: Supercarrier as soon as this is available.
9. Lastly- REAL LIFE always comes first: If you can't join us for a mission, don't sweat it. Got a few busy weeks ahead? No problem, just let us know.
HOWEVER: we expect that you make an effort to be an active and contributing member, and that you realistically aim to join 3-4+ missions a month in general. If you join but end up not participating over the course of weeks you will be discharged without warning.
If ALL of these points apply to you, feel free to send a PM and tell a bit about yourself and your background, including DCS- including your DISCORD tag (username#1234)
DISCORD:
https://discord.gg/C36cbnKC
YOUTUBE:
https://www.youtube.com/channel/UCp2...F2pHehuUmCJMCg
If you enjoy flying the Tomcat and Hornet together with like-minded people- you won't regret it!
Here are a couple of random shots from recent flights. Hope to see some of you guys with us on the flights to come!